I was chatting with my friends on Roblox, and we were having so much fun with playing games.
And I decided to quit chatting after played many games that we had a lot of enjoyment. As I was going to get off from chatting I decided to play 4 games before I go to bed.
The Next Day
It was 6:00 morning, so I woke up from bed to play Roblox. I went to the computer and turned it on. I went to the webpage to play games that are my favorite, until I saw a new game that was called... It was nothing. I clicked the game anyway, but this is the one that made me get chills. The image looked alarming and the made by was missing, and ( Play ) Button was changed to Play! This made me freak out. I talked to myself that this was just cliché.
And I just thought it was just a glitch but I checked and.... It was real. I looked down to see the description box only said "..." the icons all them were just gone. I then clicked play! and it went right to the game.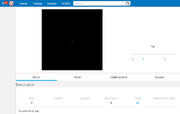 My character's face looked scared. It featured a girl sitting on a chair and a river. I then start to walk my character to the girl whos sitting on the chair. I then saw the message of her it said "They Will." I started to hear a loud glitch noise saying "They do it, and so do you!" I then teleported to a mansion. It was really dark though so I grabbed my flashlight from the inventory. I then jumped in horror as I saw someone running after me. So I ran as fast as I could. Avoiding everything that I fall or trip on. Once I got to the end that sign in the fence said "No way out" Then the game crashed.I shut down my computer quickly and never playing Roblox ever again in my entire life. That night I had a nightmare that I got alarmed of someone chasing me with a knife.
Ad blocker interference detected!
Wikia is a free-to-use site that makes money from advertising. We have a modified experience for viewers using ad blockers

Wikia is not accessible if you've made further modifications. Remove the custom ad blocker rule(s) and the page will load as expected.