I was bored on ROBLOX looking for some groups to join, when suddenly I found a group called 'Robloxian Myth Hunters'. It seemed interesting so I joined it. I also joined a closely related group called 'Roblox's Myths'. I asked people on the group wall if there were any myths I could investigate. A guy called Kazdam, who appeared to be the owner of the group, replied saying to investigate either Noli or Ulifer. I chose Noli and investigated his place, 'The Tempest'.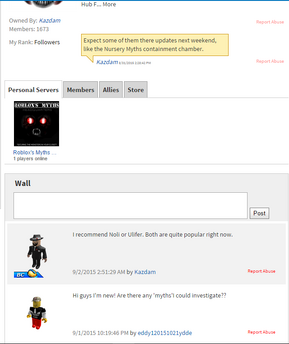 I had a lot of fun investigating Noli. Other myth hunters like
this guy called 'Mythslegends' helped me, although that
Mythslegends guy said 'Noli is fake...' and stuff like that
every once and again but I didn't believe him. One day, I was on The Tempest with Mythslegends and this other myth hunter called HiddenGem. We were wondering about what 'aspx' could mean when all of a sudden someone called 'SWEAJUDAIIINAOLE' joined. Here's what the chat looked like (I'll call SWEA 'SW', Hidden 'HID', Myths 'MTL' and myself 'Ed'):
*SWEAJUDAIIINAOLE JOINS THE GAME*
SW: N
Ed: OMG NOLI JOINED!
MTL: That's called a wannabe, they're people who try to be myths but fail
SW: O
HID: BRB
SW: L
Ed: Wannabe! heh stupid wannabe!!1
MTL: Just ignore it.
SW: I IS COMING. N O L I IS COMING! ZJZJZJZJZJZJZJJZJZJ
HID: Back. So, what do we have here? A wannabe?
All of a sudden, Swea's character exploded and a massive fire spread across the map. There was a small red fire, a small green fire and a small blue fire but they eventually merged together to create a massive white fire.
MTL: OMF! HE'S HACKING
Ed: I think we should LEAVE!
HID: You two are over-reacting, let's just wait and see what happens next.
MTL: K
Ed: ok
After that, the flames reached us and we all died. Except for swea, who was levitating above the temple. Then a message popped up on the screen, saying 'I AM TRUE'.
MTL: Yep he's hacking
SW: THREE PLAGUES!
Ed: What
The game then shut down, but we were instantly rejoined back.
SW: FEEL IT NOW? MY SUFFERING? MY PAIN? I WAS ONLY TRYING TO HELP YOU, BUT YOU IGNORED ME. I MOURNED, I WEEPED, I CRIED, I SCREAMED, BUT YOU DIDN'T EVEN TAKE A GLIMPSE AT ME. FEEL MY PAIN!
HID: Great. There's a powercut. I better go before my computer decides to shut itself down.
MTL: I GTG THERE'S SUDDENLY A HUGE STORM WTF
Ed: Guys I gtg my mom said my oldest brother is missing but I'm pretty sure he was playing on his phone just b4 0_o I have to help look gtg bai
I still don't know what happened to my older brother, but I do know what Swae meant. We were affected by the plagues of Egypt. Hidden was affected by plague 9, which caused complete darkness for three days. Myths was affected by plague 7, which caused a massive storm of hail and fire. And lastly, I was affected by plague 10, which caused the oldest child in the family to die.
So please, I beg you, DO NOT EVER call a myth a wannabe.
By Mythslegends
Ad blocker interference detected!
Wikia is a free-to-use site that makes money from advertising. We have a modified experience for viewers using ad blockers

Wikia is not accessible if you've made further modifications. Remove the custom ad blocker rule(s) and the page will load as expected.