welcome this is SHITTY AND FAKE NOT AT ALL horror story i mad read if you dare!
i was gonna play a game it was "dark world" and i thought it would be a scam like people do on roblox but it was true its was dark and i at least had a a flash light then i went to a room with light but then i saw a guest and the people on the board were not there exept the guest which freaked me out and i wanted to leave but i wont let me then he my game crashed and but i was loged out so i loged back into my account and then i heard a voice on roblox high school and all the others crashed but then i didint crash but the voice said "you will die"
so i got freaked out then it teleported me to a game called "guest love"
so i played it and it was kinda boring then something broke and the
talking guest was there so i got freaked out and i didint play roblox
for a month so when i tried to log into my account i notice that my
account was deleted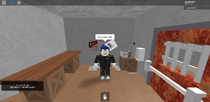 Ad blocker interference detected!
Wikia is a free-to-use site that makes money from advertising. We have a modified experience for viewers using ad blockers

Wikia is not accessible if you've made further modifications. Remove the custom ad blocker rule(s) and the page will load as expected.