One day, I saw on Roblox had a new update, supposedly putting in loads of new stuff, a new catalog, a new Develop, and a new game page. Excited because I really like Roblox and I am always up for new updates, I downloaded the update. The update file was called Roblox.exe. I went into the new Roblox page.
I saw on the home page that Roblox's logo had changed. Instead of its regular logo, it had blood drooling down from each blood red letter. I saw a blog thing for a new game that was going to be reviewed. It was called Your Not Supposed to be Here. I clicked it, thinking that is was a horror game. But no, it was worse.
The page had blood on it, it even was realistic. It made me want to almost throw up. I thought that maybe it was because it was such a big game that ROBLOX made it spooky. But when I looked at the visits, only one person had joined. I assumed that this was the dev guy that reviewed Roblox games. So I played.
You don't want to play. It made me want to hide in my bedroom for 5 months. It was filled with realistic blood, a dead dev guy, dead Builderman, dead Telemon/Shedletsky, and my character, YernotawizardHarry, dead. I automatically closed down the game, but it took me to the 404 page, but the 404 page had builderman, smiling at me, it said in sloppy hand writing, as if it was written by a 5 year old, 'Soon, soon your life will be a nightmare, Felix, Thomas, Tom.' I did not know who Thomas or Tom was, and I was getting scared. So I closed that page.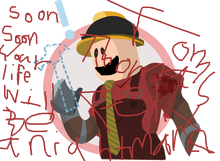 Thinking that this was some joke, I recalled the update file stating Roblox.exe. I thought about it and soon realized that it wasn't a good update, it was a bad update, for those who want their life, terrorized for eternity. I looked it up on the internet to see if anyone else had the problem, it turns out, more than 500 people had downloaded that horror update, and two of those people were Thomas and Tom. It turned out that they were brothers.
About a month later a new update that had the file named as Roblox.update. Which made some sense in a way that is was an update. I uploaded the update hoping that it would be a virus or another one of those horror updates, and it was the normal old Roblox home page. It turned out that Roblox decided to have a random guy do an update. It turned out that that guy was a murderer that had murdered more than 20 people without getting caught.
Being relieved that that was over, I played some Roblox. I was playing Speed Run when all the sudden, the blue screen of death popped up. It said, "Soon, soon your life will be a nightmare, Felix."
End
Ad blocker interference detected!
Wikia is a free-to-use site that makes money from advertising. We have a modified experience for viewers using ad blockers

Wikia is not accessible if you've made further modifications. Remove the custom ad blocker rule(s) and the page will load as expected.