I'm an average roblox player, like most people, but today, I found an interesting game called "Y0UR D00M".
I decided to join it, and I saw another user on the baseplate, his name was "K1LLSCR33N" but it said his name was "Him" in the game, he even had a devil icon next to his name.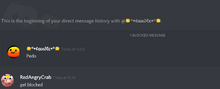 I was wondering if this was just a user trying to scare me, but I felt like someone was watching me behind my back, but whenever I turn around it's not there anymore.
With the sweat dripping down my keyboard I asked this user if he was trying to scare me or not.
His reply was "I WANT T0 D0 M0R3 THAN SCAR3 Y0U."
Later, I asked him the same question again, his reply was "I WANT T0 T0RTUR3 Y0U. I WANT Y0U T0 SUFF3R F0REV3R."
I left the game shortly after, but the user just kept stalking me, everywhere I go, on roblox.
Ex. MeepCity, Auto Rap Battles 2... The list keeps going on and on.
I sent him a P.M (Private Message) asking him why he keeps following me.
His response was "I WANT T0 KN0W Y0U B3TT3R B3F0R3 I KILL Y0U."
I said to him "Listen, I dont want to deal with this right now, can you please stop stalking me?"
His response was "I WILL N3V3R ST0P."
This was getting more annoying than creepy after that, I decided that it was enough roblox for today, and I went to sleep.
The next morning, my character was a 1.0 and was red for a day, I got a message from him, I opened it and it said "TH1S W1LL N3V3R ST0P.... Y0U W1LL N3V3R B3 AL0N3. JUST WH3N Y0U TH1NK Y0U AR3 SAF3, 1LL B3 WATCH1NG Y0U, UNTIL THE DAY YOU DIE."
---------------------------------------------------------------------------------------------------------------------------------------------------------
This game is actually real, Infact, ill give you the link.
https://www.roblox.com/games/592324293/Y0UR-D00M#!/game-instances
Ad blocker interference detected!
Wikia is a free-to-use site that makes money from advertising. We have a modified experience for viewers using ad blockers

Wikia is not accessible if you've made further modifications. Remove the custom ad blocker rule(s) and the page will load as expected.