THIS IS MY FIRST ROBLOX CREEPYPASTA, SO, UM, YEAH. EXPECT IT TO BE KINDA BAD
It was around July 2014. I made an account on ROBLOX called 'cooldudetrain4569'. I know it sounds generic, but I couldn't think of any thing else. I became popular, and got 200 friends in a week. I got BC and made my look much less  boring, people said I looked awesome. I also changed my name to 'superxtramazing'
But one day, I got a message from someone called 'Ibythyngolyguibrifochi'. I knew the name meant something, so I looked it up and found out it was Welsh for 'never meant to hurt you'. I was active quite a bit in myth hunting and thought of the person as a wannabe, but decided to read the message anyway. It said:
VISIT VENATIONE MEA - YOU WILL NOT REGRET IF YOU COME
VISIT VENATIONE MEA - YOU WILL REGRET IF YOU DON'T COME
I translated 'VISIT VENATIONE MEA' and found out it meant 'Visit my game'. I decided to visit the game to see how fake it would be. The game was called 'COWARDLY'. Its thumbnail was just a pattern, which I ignored. It had 6666666 visits. 'Weird', I thought. I joined the game. It was pitch black for a few seconds, then it popped up with an image and a screaming audio. The image was horrible. It was gruesome. I wish not to say what it was. The audio was extremely realistic. My mouse froze. I tried pressing alt and f4 to exit off the game, but it didn't work. It then said 'REGRET.' and then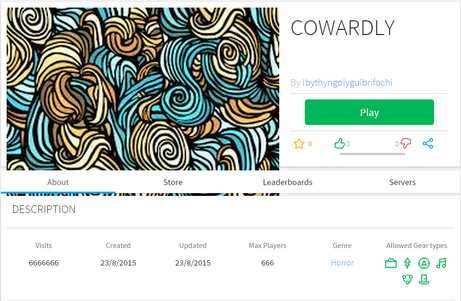 I was kicked from the game. I clicked the 'games' button and noticed I was logged out when the games loaded. So I tried to sign back in, but it said I had been banned.
The reason?
'REGRET.'
By Mythslegends
Ad blocker interference detected!
Wikia is a free-to-use site that makes money from advertising. We have a modified experience for viewers using ad blockers

Wikia is not accessible if you've made further modifications. Remove the custom ad blocker rule(s) and the page will load as expected.