I joined in 1/13/2015 as kanni1. I found ROBLOX a cool game where you imagine things and more. The website is so cool that I log-in every day there.
So here is a strange thing I noticed. I was playing a game called Mine'd with my friend GeorgiaTheBat. After a few minutes she left. I remained on the server. Suddenly a guest called Guest 1 joined. Something shocked me there. The guest said "hhi". I was happy and replied "hi". Suddenly something strange happened. My ROBLOX game crashed.
But that wasn't the worst part. After that, I went to play a game named Flood Escape (one of my favs). Strangely no one was in the server. The guest somehow joined me. He was saying "hjälp !". Then he ran towards me with a somewhat creepy face. I was scared and I quit the game. I went to mad games. Strangely, I found lots of dead ROBLOXians. One of them was Guest 1. Suddenly, he jumped and was scaring me, again. I found on the ground a knife (you know, that knife which represents the game). I threw it at the guest and he died.
I quit. I refreshed the page. I saw an image with that face and text saying : "GET OUT!!, OTHERWISE I'LL KILL YOU !" in a bloody font. I closed the browser. Suddenly my computer crashed and said "Guest 1 is the leader" in a bloody font, again. I unplugged the computer and after that, everything got back to normal.
Sadly, it lasted only a few minutes. I went to my game. It was just a blank baseplate. The guest came there. I found this time a ban hammer. I hit the guest with the ban hammer. While he was flying, I shouted "BAN HAMMER!" and he disappeared.
I finally managed to beat the guest but, I have to stay prepared, he may come back one day.
-- THE END --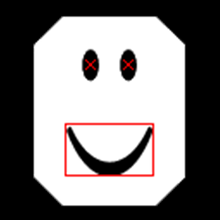 Ad blocker interference detected!
Wikia is a free-to-use site that makes money from advertising. We have a modified experience for viewers using ad blockers

Wikia is not accessible if you've made further modifications. Remove the custom ad blocker rule(s) and the page will load as expected.