Hello. My name is BoomBlox555... I made this account back in 2014 but I have 2 more accounts from a long time ago.
My first account was Thomasivan123 (Shitty name) and my second one was ivanpoop1 (I made this account months after it happened)
Midnight.
It was midnight. I hopped out of bed and played ROBLOX When my parents are sleeping. I Logged in as Thomasivan123 and went to play some games like everybody at school does. (ROBLOX was the big hit at my school). It is now 2:43 AM and I were still doing my basic stuff on ROBLOX and then the website just became blank. I just went to sleep after that.
April Fools day 2012
I hopped out of bed and went to school. Everyone was talking about ''The BadBlox Hack'' but the day was normal. Later I hopped on my computer to go on ROBLOX just to see what ''The BadBlox Hack'' was.... and it was bad. Since the Roblox HQ was just 1 hour away from my home I hopped on my bike and went to the HQ. I went to the HQ and guess what I saw... Police. I asked one of the cops what just happened. Somebody killed himself on the 2nd floor of the ROBLOX HQ. I went back on my bike to go home.
When I logged back as Thomasivan123. It was deleted. I cried for hours and went to sleep.
2013
When I was on the school bus I knew little me wanted to do. Make a new Roblox Account It was called Ivanpoop1. I only played ROBLOX for 1 time a week and just got bored of the account and just left it there
I made movies using this account. Here is a list of them.
The Pooper Boom
The Noob KILL
THE BOOM
THE BOOM 2
THE BOOM 3 (Never was made.)
T.H.E.B.O.O.M.2 (Poorly made Creepy story)
It was a nice year for me and ROBLOX.
2014
I just made a new Roblox account )BoomBlox555) and made Ivanpoop1 my new alt account. Then the school bus came. Everything was normal. Then we went to the Computer lab. There was that one Hacker geek that used to exploit on ROBLOX. He said. ''Let's hack the ROBLOX database for fun!'' So we went to a random computer and went to ROBLOX.com We were looking around and we saw a folder. it was called ''Aprilfools2012hack'' I told him the tale about Thomasivan123 and we clicked on it. It was users that got their account deleted. we scrolled to the list while still pissed off of 1dev2 and my account. then I found it. there is that one folder that was called ''THOMASIVAN123FUN''. we clicked on it. and there was a .txt file called ''READTHISBOOMBLOX'' So we clicked to see what was written there. and this is what is said.
''HEY NOOBS OF ROBLOX IF YOU ARE READING THIS YOU DIE LOLOLOLOLOL FGT KYS BYE NOOB''
I was not scared at all. Is this is a sick prank? the geek said. Just seconds later we heard a gunshot. Somebody broke into our school! Everyone ran like hell! I hid in the bathroom and the school day ended early. When I was exiting the school I heard a man in his 30s say ''IM COMING FOR YOU FUCKING SHIT CHILD'' and I heard a gunshot the 2nd time! I ran to my bus and guess what. the Hacker geek kid that I worked with got shot and died.
When I went to my house both my parents are sobbing at my bedroom so I checked out. It turned out my younger sister got kidnapped by the same man.
What is going on in my family?
2015
Its been almost 1 year since my Sister was kidnapped. Most of 2015 were me Finding the man and calling the cops. but today I found something. I was just coming back on ROBLOX after it happened and something came in the mail today. I opened it up and guess what it said.
''Ivan Keijser. your sister has been found by the police today. She was beaten up and molested. She died... It turned out that the man ran away to hide the day before. we just found footage of the kidnapper's son finding your sister getting beat up by the kidnapper. the minute the man ran away.''
I was shocked. My only sister is dead and I could have saved her by not jumping out of my bed at April fools midnight. I asked my dad about my sister's death. It turned out that the man was one of his friends.
It turns out that The man was heavily bullied for being fat at school. Pushed into lockers and hated since he joined ROBLOX. One day his worst enemy almost shot him in the eye. He just had it with the bullying. later at home, he murdered his parents and ran away from home to find himself in a sewer. The next day he dressed as a clown just to kidnap little girls so he can rape them. My heart was beating like hell for the whole day. On New years eve I got a message from somebody on ROBLOX. Turns out he was the guy that freaking raped and killed my sister. But the worse thing is that I cant even report or reply to it like he was a hacker
Im going to leave a screenshot on the end of this story.
Who will be next in my family?
2016
This year was... weird. There was no news about the man and nothing happened to my ROBLOX account. I used my bike to go to that one house everybody was talking about at school. When I got there. Every step I make. the world fades away. But I was brave and I went into the house using the ventilation system. I got in the house. and there were voices all over my head telling me to go into the basement. so I went there.
There was my sister. Dead... she was still chained since 2015. This is what I found.
Her mouth got duct taped.
There are scars all over his body
The left ear is ripped
There is blood all over the floor.
Most of the basement looks like a torture room
I heard footsteps so I tried my best to hide somewhere. It was the man... He came back he was about to put his new victim on the chain for torture (It was a girl so she will be raped) I ran away from the home and im now afraid of ROBLOX. Here are some words from me.
Never hack into ROBLOX's database.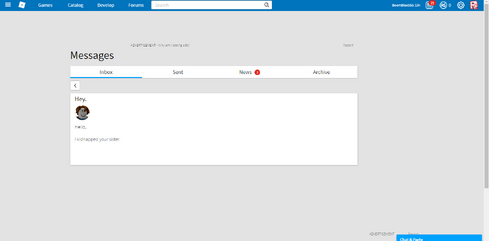 Ad blocker interference detected!
Wikia is a free-to-use site that makes money from advertising. We have a modified experience for viewers using ad blockers

Wikia is not accessible if you've made further modifications. Remove the custom ad blocker rule(s) and the page will load as expected.