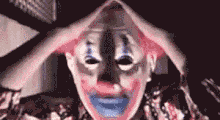 ?iloveyou is a script made by one of the ROBLOX admins that was put in any game that has the ROBLOX Developer Services scripts, When you type ?iloveyou a clown comes up on the screen and starts rubbing their face, the original video was called "Scary Dancing Clown" on YouTube by the fellow user "Eddie Jaceks" here's the link to the video Scary Dancing Clown
Ad blocker interference detected!
Wikia is a free-to-use site that makes money from advertising. We have a modified experience for viewers using ad blockers

Wikia is not accessible if you've made further modifications. Remove the custom ad blocker rule(s) and the page will load as expected.